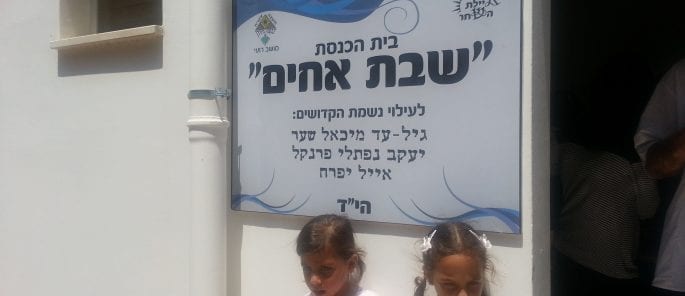 Bringing the Torah to Roi
This past Friday I participated in a moving ceremony in the Jordan Valley that I would like to share with you.  Very dear friends of mine decided to commission the writing of a Torah Scroll in order to donate it to a community in need.  A Torah Scroll contains the entire text of the Five Books of Moses and is written by hand, on parchment, by a specially trained Torah scribe.  The technique and rules governing this very precise art date back centuries and, indeed, the Torah scrolls of today look just the same as the Torah scrolls found in the Caves near Qumran, dating more than 2,000 years ago.  It is very expensive to commission a scroll and those who do so are considered to have fulfilled a very sacred mission.
My friends, neighbors of mine in Karnei Shomron, sought to donate the scroll to a community that was seeking their Jewish roots, a community which did not pray on a regular basis but were seeking to reconnect, not only to prayer but to G-d's word, through the Bible.  And they found the community of Roi.  A resident of Roi by the name of Moshe had long felt that there was something missing from his community.  Years earlier someone had told him, in a casual sort of way, that a community was not really a Jewish community if it did not have a synagogue.  That statement resonated powerfully in his heart and soul and in the heart and soul of his wife but it was only recently, that they paid attention to that call.  They decided that they had to ensure that there was, indeed, a synagogue in Roi.
Roi is a small agricultural community located along the eastern foothills of the Samarian mountains just above the lowest point in the Jordan Valley.  It was founded by dedicated pioneers nearly 40 years ago and today numbers just 45 families.  The residents of Roi have battled extreme weather, isolation and terrorist attacks but they have persevered, and today the community is a gem in the Jordan Valley area, eager to absorb new families.
But until now, all of the members were secular and there was no synagogue in the community, no Torah scroll and no regular prayer service of any kind.  Moshe undertook to change all that, petitioning the mayor and the national government to step in.  And just this year, a small synagogue building was erected in the community by the Government of Israel.  But there was no Torah scroll.  And then my friends, Dina and Phillip Fine stepped in.  This was exactly the kind of community that would be a fitting recipient for their Torah scroll, and as soon as the scribe finished his work, the scroll would be given to the community.
On Friday, we all gathered together in Roi, friends and family of the Fine family from Karnei Shomron, all deeply religious people, and the people of Roi, secular in their life-style but eager to welcome a synagogue and Torah scroll in their midst.  When a Torah Scroll is completed, it is a very special spiritual event and the final completion of the writing is done at the ceremony itself, followed by a procession of the Torah Scroll, under a wedding canopy, to the synagogue ark.  It is customary, as well, to enable guests to partner with the Scribe in a symbolic way as he writes the final letters of the Scroll, and in that way, taking part in the writing of the scroll. 
The ceremony began with the scribe sitting before the opened Torah scroll, explaining to all present the spiritual significance of writing the Torah scroll. Then one by one, guests were called up to lay a hand upon the Scribe's hand and in this way participate in the writing.  When the ceremony was over, we all accompanied the Torah scroll with music and singing to its home in the synagogue Ark.
The synagogue itself was also dedicated that day and was given its official name: Shevet Achim.  This means "brothers dwell" and is a quote from the well-known Scripture: "How good and how pleasant it is that brothers dwell together."  (Psalm 133)  The name was carefully chosen not just to reflect the brotherly atmosphere that Roi residents hoped would prevail in their synagogue but also as a way of memorializing the tragic deaths of the three young boys, Eyal Yifrach, Naftali Frenkel and Gil-Ad Shayar, who had just been buried days earlier.  These boys became the brothers and sons of an entire nation and the people of Roi hoped that the prayers that united the entire nation on behalf of these three boys would serve as an inspiration for the prayers of this community.
Click here to find out more information about Roi
How special it was for me to be there in Roi, and share this special moment with them.  And I took advantage of my visit to give them the first installment of the funds we had raised for their youth center, featured as our community of the month just a few weeks ago.  I met the dynamic community coordinator who was thrilled that so many new things were happening in Roi today – new families moving in, a new generation of youngsters growing up in the community, and a new synagogue to provide spiritual vitality to the community.  What an amazing feeling it was for me to be a part of all of this!
If you would like to join Roi as they grow their community, both spiritually and physically, click here to donate to their youth center!  You, too, can be a part of all this!
Shalom,

Sondra Baras
Director, Is