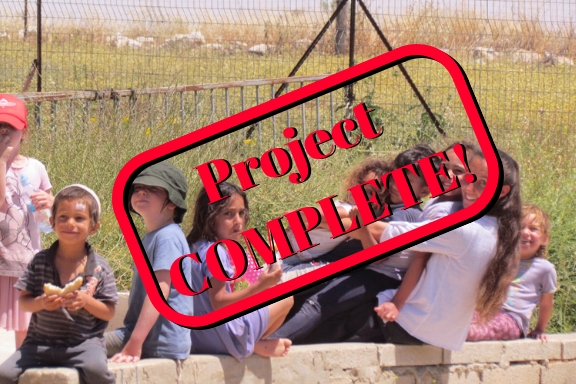 Sde Bar Children – April 2018
It's all about the Children
We are thrilled to welcome Sde Bar back into the CFOIC Heartland family.  Years ago there was a youth village in Sde Bar and you, our friends and supporters, provided valuable assistance for the troubled youth who found a home here.  Then the youth village closed and for years, Sde Bar dwindled, the few residents ambivalent as to their future .  But today, Sde Bar is a fully-functioning, young and vibrant community.  They are back on track, making the barren spaces beautiful again and growing their families in the heart of Biblical Judea.
To see the desert blooming, just as Isaiah prophesied (Isaiah 35) is a wondrous thing to behold. But the most important development in Judea is the settlement of people on the land! The people are the true treasure in Judea and Samaria. They are fulfilling their destiny and purpose by just living ordinary lives. And their greatest treasure is their children.  They are raising up the next generation to love God and love the Land that God promised would be theirs.
You Can Help Keep Them Safe
Today, there are many young children in Sde Bar and they need places to play and things to do.  But they also need protection from the threats that surround this isolated community.
Your donation today will provide toys and play equipment for the children of Sde Bar. And it will also help purchase walkie-talkies,  binoculars, and emergency medical equipment. This equipment will help protect the families and keep them safe. Your donation to help purchase these emergency items can literally save lives.  Please send in your best gift today to keep the desert blooming and to help protect those brave pioneers who are settling their God-given inheritance.  Stand with the people of Judea today!
---