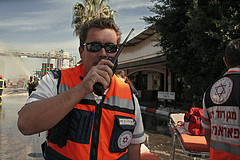 Migdal Oz – August 2018
Keeping Israel Safe
We all know that if a tragedy occurs, a car accident, a  house fire, a bad fall, help is just a phone call away. But what would you do if no one could hear your cry for help?  Worse still, what would happen if the various emergency workers providing help could not communicate with each other? Imagine the chaos, the confusion, the time lost because they simply don't know where to go or who needs their help.  Now imagine that scenario in the event of a terrorist attack.
Thankfully, this is a situation most of us don't have to live with.  However, this is exactly what the families living in Migdal Oz face every day. Small communities like Migdal Oz in Judea and Samaria must have high-quality communications equipment and they don't always have the resources to purchase them. Migdal Oz has a dedicated team of volunteers and professionals who work together every day saving lives and keeping families safe, but they need your help to purchase vital, life-saving equipment.
Communication Saves Lives!
The families living in Migdal Oz work hard to make this barren area fruitful and they trust God every day as they fulfill His commandment to possess the land, to live in it, and to make it bloom. They are raising their children in the heart of Judea, instilling their passion and faith into the next generation. They know that living here is not easy, but they trust God to keep them safe.  But they also know when to ask for help.  That is why they are asking you to stand with them by giving your best gift today.
Your donation today will purchase and install a brand new emergency communications system in Migdal Oz. This will ensure that all of the emergency responders can communicate with one another in the event of a crisis. Knowing that their first responders can act immediately and effectively in an emergency brings peace of mind to every mom and dad in Migdal Oz. You can help save lives in Israel with your donation today!  You can help protect the people of Migdal Oz.
---