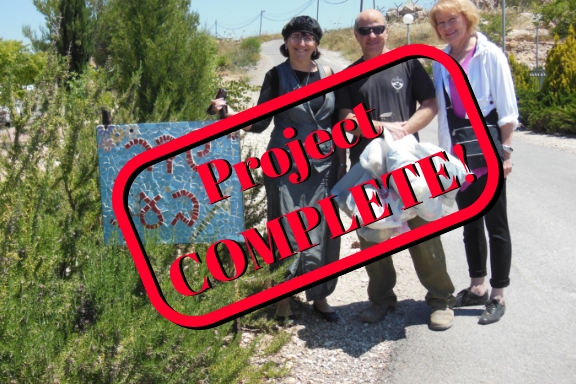 Sde Boaz Playground – June 2018
$10,800
of
$10,800
raised
Everyone needs a place to play
Going to the park is something every child, looks forward to. There is so much fun there, playing with friends, running, climbing, sliding, and of course swinging! It is almost guaranteed that a parent or grandparent will tire of pushing a child in a swing long before the child wants to quit!  In Israel going to the community playground is a highlight for everyone — parents socialize with other parents, while children learn to play and get along with others. Perhaps most importantly, they get outside in the fresh air. Experiences like these are especially meaningful in the hills of Judea. Moms and Dads in Sde Boaz are thrilled to be raising their children in the very place where the ancient Biblical heroes raised their children. What could be more ideal?
New Swings Are A Necessity
Sadly, there aren't swings or a jungle gym that are appropriate for babies and toddlers in Sde Boaz. The older children have a playground, but the equipment needed for the younger babies and toddlers doesn't exist in that isolated community.  The moms and dads are asking you to support them in their dream of building up the Land of Israel, raising their families in a place where Ruth may well have gleaned wheat in Boaz's field, right outside their front door.  The babies and toddlers are asking you to give them a place to swing and slide, jump and climb safely.
Your donation today will provide new swings and a jungle gym specifically designed for babies and toddlers. Having a place to go that meets the development and activity needs of babies and toddlers is vitally important to families living in Sde Boaz.  Community life, connecting with neighbors and friends, getting outdoors to run and play, is a central part of daily life in a Jewish community in Israel.  You can be part of the fulfillment of God's promises to return children to the land of Israel! Just imagine the squeals of joy and peals of laughter that will ring across the mountains of Judea as these precious children play once again in the fields of Boaz! You can make that happen!
---