Letter from Sondra – Dec 2018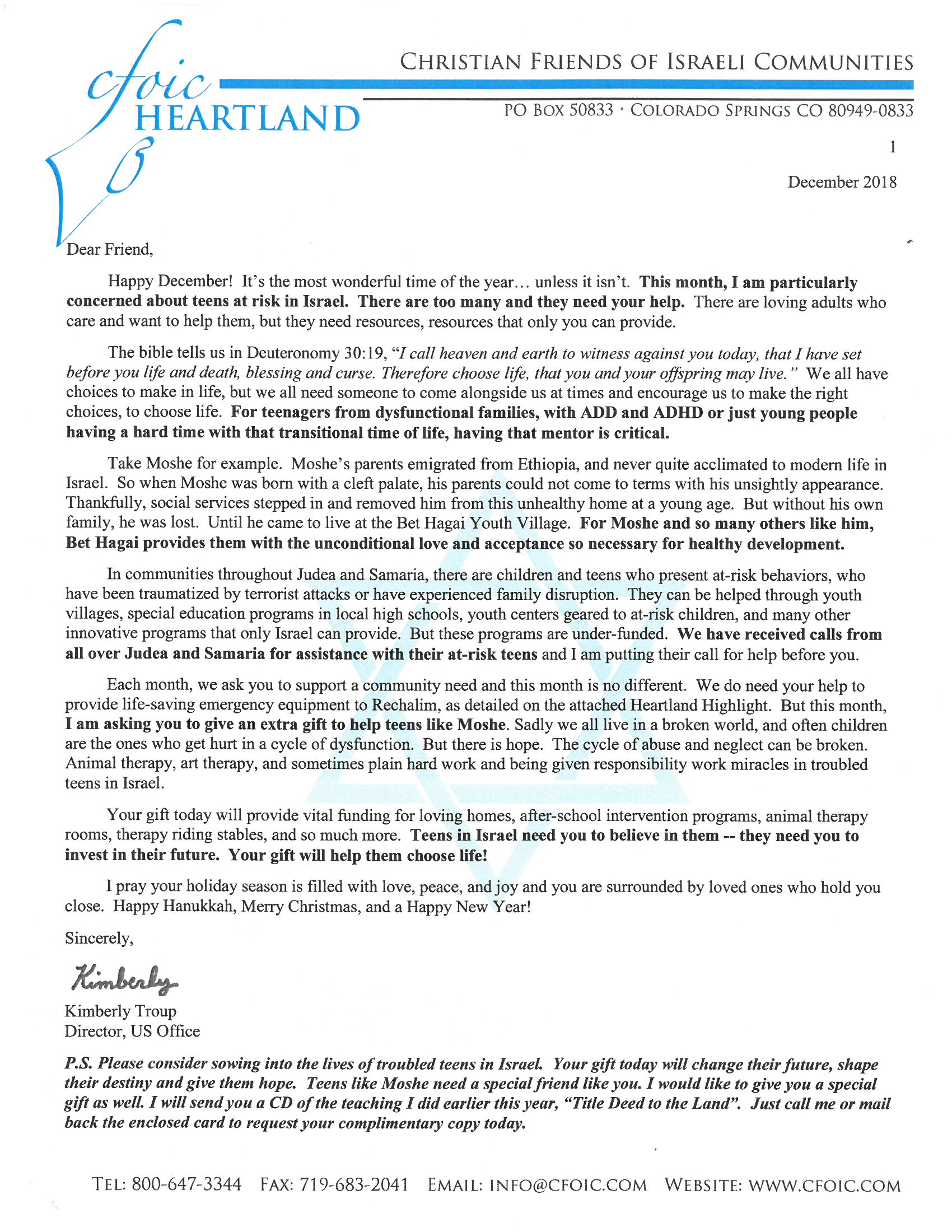 Dear Friend ,
Happy December!  It's the most wonderful time of the year… unless it isn't.  This month, I am particularly concerned about teens at risk in Israel.  There are too many and they need your help.  There are loving adults who care and want to help them, but they need resources, resources that only you can provide.
The bible tells us in Deuteronomy 30:19, "I call heaven and earth to witness against you today, that I have set before you life and death, blessing and curse. Therefore choose life, that you and your offspring may live."  We all have choices to make in life, but we all need someone to come alongside us at times and encourage us to make the right choices, to choose life.  For teenagers from dysfunctional families, with ADD and ADHD or just young people having a hard time with that transitional time of life, having that mentor is critical. 
Take Moshe for example.  Moshe's parents emigrated from Ethiopia, and never quite acclimated to modern life in Israel.  So when Moshe was born with a cleft palate, his parents could not come to terms with his unsightly appearance.  Thankfully, social services stepped in and removed him from this unhealthy home at a young age.  But without his own family, he was lost.  Until he came to live at the Bet Hagai Youth Village.  For Moshe and so many others like him, Bet Hagai provides them with the unconditional love and acceptance so necessary for healthy development. 
In communities throughout Judea and Samaria, there are children and teens who present at-risk behaviors, who have been traumatized by terrorist attacks or have experienced family disruption.  They can be helped through youth villages, special education programs in local high schools, youth centers geared to at-risk children, and many other innovative programs that only Israel can provide.  But these programs are under-funded.  We have received calls from all over Judea and Samaria for assistance with their at-risk teens and I am putting their call for help before you.
Each month, we ask you to support a community need and this month is no different.  We do need your help to provide life-saving emergency equipment to Rechalim, as detailed on the attached Heartland Highlight.  But this month, I am asking you to give an extra gift to help teens like Moshe. Sadly we all live in a broken world, and often children are the ones who get hurt in a cycle of dysfunction.  But there is hope.  The cycle of abuse and neglect can be broken.  Animal therapy, art therapy, and sometimes plain hard work and being given responsibility work miracles in troubled teens in Israel.
Your gift today will provide vital funding for loving homes, after-school intervention programs, animal therapy rooms, therapy riding stables, and so much more.  Teens in Israel need you to believe in them — they need you to invest in their future.  Your gift will help them choose life!
I pray your holiday season is filled with love, peace, and joy and you are surrounded by loved ones who hold you close.  Happy Hanukkah, Merry Christmas, and a Happy New Year!
Sincerely,
Kimberly Troup
Director, US Office
P.S. Please consider sowing into the lives of troubled teens in Israel.  Your gift today will change their future, shape their destiny and give them hope.  Teens like Moshe need a special friend like you. I would like to give you a special gift as well. I will send you a CD of the teaching I did earlier this year, "Title Deed to the Land".  Just call me or mail back the enclosed card to request your complimentary copy today.