SB July 2019
Dear Friend,
I realize it is only July but it is not too early to start thinking about October.  For Jews, that is easy to do.  With the conclusion of the holiday of Shavuot (Pentecost) just a few weeks ago, our next Feast is in late September, as the season of fall holidays begins with Rosh HaShanah, the Jewish New Year, alternatively referred to as the Feast of Trumpets.  Then comes Yom Kippur, the Day of Atonement, and after that the joyous and festive Feast of Tabernacles.
Each year, thousands of Christians come to Jerusalem to celebrate this wonderful feast.  Many enjoy the Jerusalem March, when Christians and others from around the world, parade through the streets of Jerusalem with their national flags, expressing wholehearted support for Israel.  It is indeed a wonderful sight.
Each year, CFOIC Heartland hosts Christian visitors in Judea and Samaria for a one day tour during the Feast of Tabernacles.  We have been doing this since 1998, and it is always a highlight of our year.  There is nothing more exciting for me than to host Christian supporters of Israel in my own personal succah and share with them, with you, the joys of the season and the commitment we feel to the Land of Israel.
This year, once again, we will be hosting a one-day tour of Judea.  The bus will depart from and return to Jerusalem, from the Convention Center (Binyanei HaUma) right near the Central Bus Station.  You will really explore Judea and its people this year.  We will visit the amazing and updated multi-media experience at Kfar Etzion and connect as never before with the moving story of that community, beginning in 1943 up until today.  You will travel along the traditional Path of the Patriarchs, visit Biblical and modern Tekoa, experience Bet Hagai and end the day in Efrat where I will host you in the succah of my son, daughter-in-law and adorable grandson.
If you cannot make this day but would like to schedule your own tour of Judea and Samaria, either during the fall Feast season or any other time, please let me know.  We schedule meaningful visits to Judea and Samaria for visitors, individuals, and small or large tour groups, all year long.  There is no better way to truly understand the realities of our presence here in the heart of Biblical Israel – a reality that spans Biblical, spiritual, historical, and political ramifications.
Sincerely,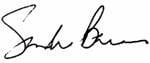 Sondra Oster Baras
Director, Israel Office
P.S. , I hope you can join me in Judea on October 15, 2019 if you will be in Israel during the Feast of Tabernacles.  Please review the enclosed flyer and fill out the form as soon as possible to secure your place on this amazing tour!