SB May 2019
Just a few weeks ago, a man was killed as he tried to protect his fellow Jews from being murdered by an Arab terrorist.  His name was Rabbi Achiad Ettinger.  He left behind a wife, Tamar, and 12 children. Rabbi Ettinger was on his way to work in Tel Aviv when he heard shots being fired near the entrance to Ariel. He stopped his car, drew his weapon and attempted to stop the terrorist just as he had stabbed a soldier, grabbed his weapon and murdered him. But Ettinger and his pistol didn't stand a chance against the terrorist and his automatic rifle.
Rabbi Ettinger represents the best among us.  A man dedicated to G-d, to his people and to the Land of Israel.  A man who taught Bible and Talmud to all kinds of Jews in all kinds of places.  A man who thought nothing of his own safety when the opportunity presented itself to save others.
It is this heroism and dedication to higher ideals that has lain at the foundation of the settlement movement since its inception.  Young families who recognized the process of redemption that the establishment of the State of Israel and the subsequent victory in the Six Day War represented, left comfortable homes and moved to the rugged mountains of Judea and Samaria.  Many lived for years in temporary housing, in mobile homes and pre-fab structures, waiting for permission to build permanent communities.  Over time, these communities grew and today there are 450,000 Jews living in Judea and Samaria.  But even today these residents are made of strong stuff.  They are surrounded by enemies who want to murder them as they travel to work or to school.  They volunteer for rapid response teams and for medical and rescue teams.  They raise large families, build homes, schools, businesses and synagogues.  But at the end of the day, they are ordinary people living ordinary lives.
I, too, moved to Samaria because I believed we were taking part in G-d's plan for redemption.  And despite the difficulties, and in light of our successes, I am confident that we have accomplished great things.  I am proud to live in Samaria and I am proud to be a member of this amazing community of pioneers.  
Sincerely,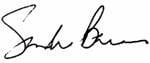 Sondra Oster Baras
Director, Israel Office
P.S. , Over the years, I have turned to you and asked you for your help in ensuring the continued growth and success of the Jewish communities in Judea and Samaria.  Today, we are in desperate need for equipment to help protect the families of Biblical Israel.  We need surveillance cameras, motion sensors, and communications equipment.  We need your help.  Perhaps a camera, situated at the right place, would have saved the lives of Rabbi Ettinger and the soldier who were killed that morning.  I trust I will be able to count on your support.  Please give a gift today to provide vital emergency equipment to help protect the communities of Judea and Samaria.