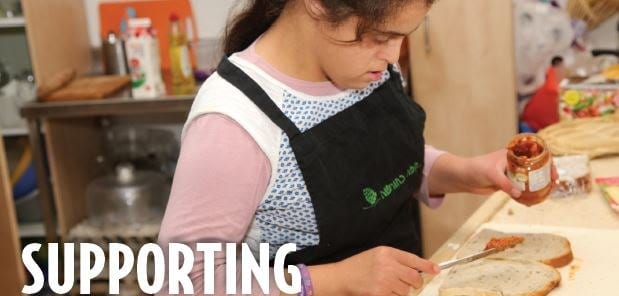 Winter 2019
In a remote grove in the hills of Gush Etzion there is a little cafe built by the students and teachers of the Sadna program for special-needs children and young adults in the community of Gvaot. The cafe started as an opportunity to make one girl's dream come true. Bat-El always wanted to work in a restaurant but because of her blindness and other health issues, it seemed her dream would never come true.
Three years ago the cafe opened for business, selling the food products that had been prepared by the Sadna children in their various workshops: The bread is baked in the school bakery and the cheese is prepared in the kitchen using goat's milk from their own goat farm. The café has become so successful that it employs 10 young adults with varying disabilities. And it has become a hit with residents of the surrounding communities. With success has come a new vision — to expand the kitchen and the adjacent balcony. Come join us in supporting the Sadna Café as it bridges the gap between people and provides special needs young people with independence and opportunity.
Stand Up With Israel!
Grace & Rick
Ever since they were young, Grace and Rick Knelsen felt this burning passion to visit the Land of Israel. They were both raised in Christian homes and studied the Bible from childhood. They loved hearing the stories of Abraham, Isaac and Jacob and of the Children of Israel. They both dreamed about coming to see the land that was promised to these ancient Biblical heroes. Rick and Grace never thought that their lives would be different or extraordinary in any way. They just fell in love, got married and started their wonderful family in Winnipeg, Canada. Grace was a family counselor and Rick was a teacher. When asked about their children Grace laughs and shares that they have two children but only one is homemade. "It was always our plan to have one child of our own and then adopt a second one," Grace explains. Their hearts are so big and their generosity so boundless, that they wanted to save a child and make him their own. In 1982, their desire to change the world for the better, one step at a time, brought
them to Africa, and for 3 ½ years they volunteered as teachers for poor children growing up in this difficult and complicated continent. It was just the beginning of their journey and they felt blessed to be able to help those less fortunate than them. On their way back home to Canada, Rick and Grace made a quick stop in Israel. It was the perfect opportunity for them to realize their long-held dream to visit the Holy Land. They were so excited at the start, but by the end, they were sorely disappointed. "The Land of Israel has so much history– it's all in the Bible," Rick explains. "I wanted to see the land that was promised to the sons of Israel but all I saw were remnants of churches and cathedrals." Although the visit did not live up to their expectations, once the couple got back home they could not give up on the idea of going back and giving it another try. They felt that they had missed something and were eager
to find it. Over the years they became active with Bridges for Peace, volunteering for Winnipeg activities and supporting Israel from afar. At one of the organization's events they met a couple who shared their own personal experience of visiting Israel, volunteering with the people and working the land. As Rick and Grace listened to the couple's story, something was ignited in their hearts. It seemed like a dream come true. There and then they decided that they had to return to Israel but this time they would search for the Land they had dreamed of for so many years. For thirty years they had kept that dream alive, never losing hope that one day it would be fulfilled. Grace and Rick were already in their late sixties when they finally returned to Israel but this time for three months. They toured the country, visiting sites and meeting the people of the land. Being the amazing people that they are, the Knelsens spent time in Carmiel, helping new immigrants who had just moved to Israel. "It was an amazing experience and it was exactly what we were looking for," Grace shares, remembering the experience with such joy. It was that trip that bound them irrevocably to the Land that had been so close to their hearts for so long. Over the years Rick and Grace returned to Israel more than seven times. They would return as tour leaders as well as on their own. When they celebrated their 50th wedding anniversary, they gave themselves the gift that meant most to them – an eight-week visit in Israel! For Grace and Rick, every opportunity to be in Israel is a gift from God. Some years ago, they connected with CFOIC Heartland and Israel Office Director, Sondra Oster Baras. "We bonded with Sondra not only because of our love for Israel," Rick says with great respect, "but Sondra connected with us on a deeper level and enabled us to understand the Bible and its teachings from a totally different and more profound perspective." The Knelsens are true friends of Judea and Samaria. They have brought tour groups to visit Judea and Samaria and they host events for CFOIC Heartland in Canada. And they are also active, standing publicly with Israel against hostile media coverage and educating Canadians about the real Israel. When asked about his favorite spot in Israel, the place where he finally overcame his disappointment from their first visit, Rick shares openly that it all came together on one hilltop in Samaria. In 2013, they were visiting Israel and had arranged a guided tour of Shiloh. Sondra then picked them up from that wonderful Biblical site and proceeded to show them the most amazing site in all of Samaria – the Three Seas Outlook. As she often does with Christian visitors, Sondra shared a Biblical teaching that conveyed the deep biblical significance of the area (Mt. Gerizim, Mt. Ebal, the Oak of Moreh and the Jordan Valley) connecting it to the modern realities of the settlement movement today. They were hooked! "When standing at the Three Seas Outlook in Samaria looking across to the Oak of Moreh where it all started, I can't help myself. I get so emotional," Rick admits and Grace continues: "When you see it with your own eyes, how the prophecies have come to life, how the Jews have returned to their promised land and planted vines once again on the mountains of Samaria; when you see the blessings of the land, you have no choice but to become a believer."
Pioneer In Our Day
When Mina was eight years old she moved with herfamily from Petach Tikva to Kiryat Arba. She was the first daughter of Moshe and Chaviva Tzachor, and although she had two older brothers, Mina always felt she had the responsibility of a first born. Often she would help with the laundry or prepare dinner or babysit her younger siblings. She loved helping out and felt empowered to have so much responsibility and to be trusted by her parents at such a young age. Little did she know that just three years later, her role as an older sister would become much more significant. When Mina was twelve, her parents came across an article in the paper about a little blind baby looking for a home, a family to take her in. They rushed to the hospital and immediately fell in love with her. Mina's mother was then pregnant with her eighth child. "I remember the day my parents first spoke to us about Liat," Mina shares when first asked how her adopted sister joined the family. "They called my brothers and me into the living room and told us about a blind baby who had been left at the hospital by her biological parents. They asked our permission to take her in and give her a family." Mina was the first to vote yes. She promised her mother that she would support her and help with whatever she or the baby would need. Her brothers, on the other hand, were not very happy with the idea. In the days that followed, Mina would imagine what it would be like to have another sister and was excited to share her room with the new baby. Not long afterwards, Chaviva and Moshe brought the little baby home to meet the rest of her new siblings. They named her Liat, in Hebrew, "you are mine." They wanted it to be clear that no matter what challenges they would face, Liat was a part of the family. The first two years were filled with uncertainties regarding Liat's medical condition and physical abilities. Not long after her arrival, the excitement Mina felt at first slowly wore off. Liat was a difficult baby and had many medical issues in addition to her blindness. She even looked different, which made it harder for the sisters to form a bond. Mina felt overwhelmed. In truth, she was disappointed. Liat wasn't even close to what she had imagined. Mina kept her distance and felt that she could not keep the promise she had made to her mother. "I remember one night," Mina shares in tears, "I woke up and stood by the crib whispering to my sister that I hated her. You must understand," Mina explains, "I was only a child and could not understand why this baby wasn't the sister I had expected." She nudged Liat out of spite causing her to roll on her face. Little Mina wanted to make Liat cry. But nothing happened. Mina stood over her baby sister and watched her and began to realize that even though Liat was uncomfortable, she did not move or cry. Only then, in that moment of anger and resentment, did Mina understand how helpless Liat really was. And it was at that moment that Mina decided to devote herself to Liat, to be a true sister to her in every way possible. Mina remembers how for years, her mother would take the bus with Liat to Jerusalem, to a special school there, and wait patiently for her in Jerusalem until it was time to return home. Then they would travel back to Kiryat Arba where her mother took care of the rest of the family. It was very difficult but the family, as a unit, always supported Liat and made sure she got the best care possible. Today, Mina Yehudit Ozeri is a mother of 10 children and grandmother of 11. She runs the Neve Avraham Child Development Center in Kiryat Arba, like her mother before her. The center was founded by her parents, Chaviva and Moshe, and has serviced the children of Kiryat Arba and the surrounding communities for the past 28 years. Neve Avraham helps children with developmental delays and learning disabilities in addition to children with Autism and Downs Syndrome. Chaviva, Mina's mother, believed that every child deserves to reach his or her potential and most families are unable to travel distances to obtain the necessary services. That is why Neve Avraham was founded – to provide these services close to home. For Chaviva it wasn't enough to adopt this special girl and give her everything she needed to become the best person she could be. Chaviva wanted to help other parents and families overcome their challenges. She wanted to give other children hope and support as close to home as possible. The warm heart and extreme devotion that radiates from Mina must run in her family. The wonderful story of the Tzachor family is amazing and Mina brings such a unique perspective to it all. When asked about her relationship with her sister today, Mina answers "Liat loves me, and I love her." And even though Liat does not speak, the only two words she is able to say are Mother and Mina.
Give Thanks
Dear Sondra,
Thank you so much for CFOIC Heartland's generous donation to our community. Thanks to the support of Christians all over the world, we were able to establish a Gymboree in Leshem. This is in addition to the support we received last year when you helped us purchase much-needed emergency equipment. We are so appreciative of all you have done for us. You have truly made a difference in our lives as we raise our children in the heart of Samaria. As you know, Leshem began only 5 years ago and today we have over 350 families — more than 1200 children! The community of Leshem welcomes some 70 new families each summer and an average of two new babies are born each week. This unbelievable growth brings us much joy but creates many challenges. Our top priority is to ensure that we are providing our residents with all the services needed for healthy living. We are building schools, we opened the Gymboree, built playgrounds and are constantly working hard to support our emergency rapid response team – just a few of the projects that we have prioritized in Leshem. For the past two years, we have felt your love and support and for that we are so grateful. Thanks to your wonderful contributions, you are protecting men, women and children who are committed to settling and building in G-d's Promised Land. Thank you for supporting us and our families. Thank you from the bottom of our hearts.
Sincerely,
The Community of Leshem