Letter from Sondra – March 2019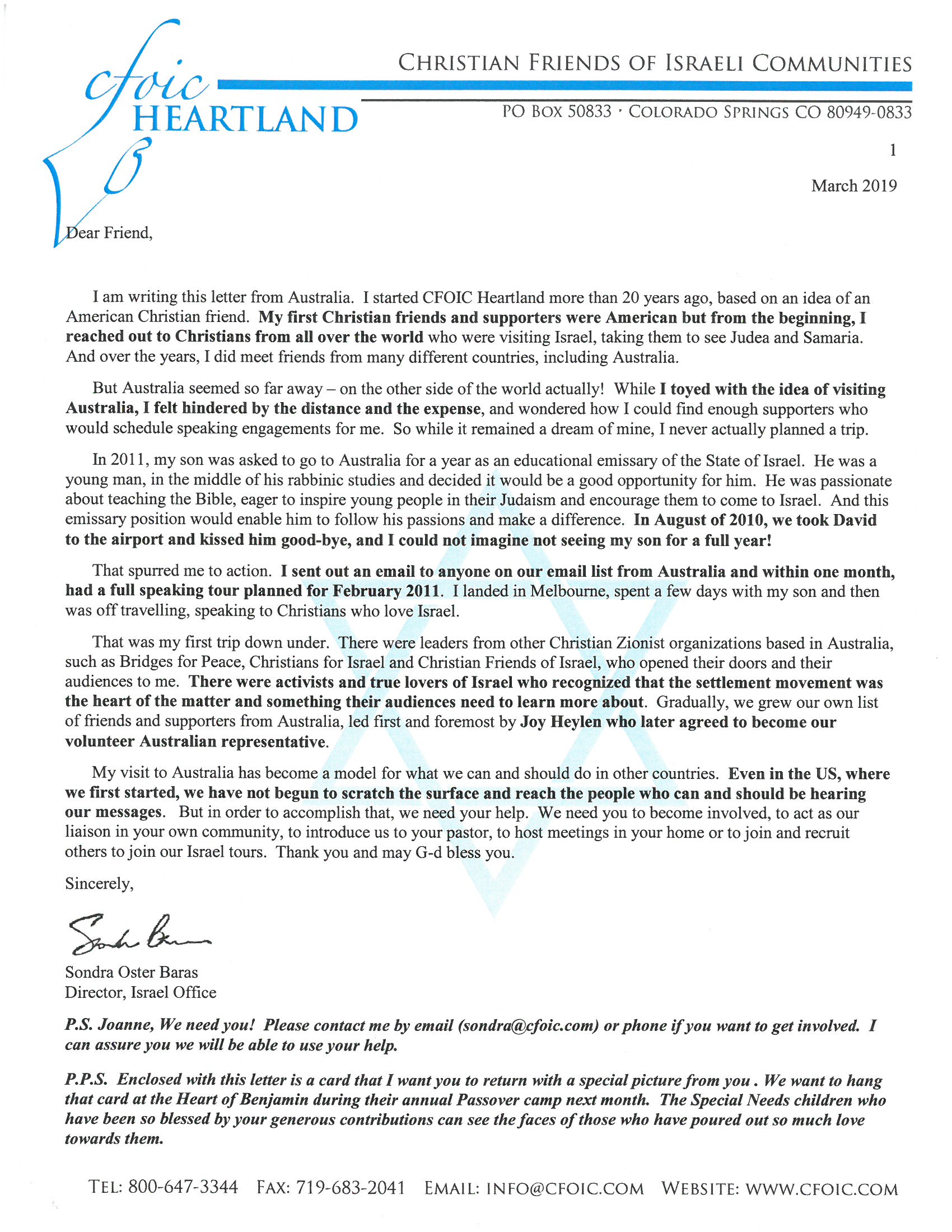 Dear Friend,
I am writing this letter from Australia.  I started CFOIC Heartland more than 20 years  ago, based on an idea of an American Christian friend.  My first Christian friends and supporters were American but from the beginning, I reached out to Christians from all over the world who were visiting Israel, taking them to see Judea and Samaria.  And over the years, I did meet friends from many different countries, including Australia.
But Australia seemed so far away – on the other side of the world actually!  While I toyed with the idea of visiting Australia, I felt hindered by the distance and the expense, and wondered how I could find enough supporters who would schedule speaking engagements for me.  So while it remained a dream of mine, I never actually planned a trip.
In 2011, my son was asked to go to Australia for a year as an educational emissary of the State of Israel.  He was a young man, in the middle of his rabbinic studies and decided it would be a good opportunity for him.  He was passionate about teaching the Bible, eager to inspire young people in their Judaism and encourage them to come to Israel.  And this emissary position would enable him to follow his passions and make a difference.  In August of 2010, we took David to the airport and kissed him good-bye, and I could not imagine not seeing my son for a full year!
That spurred me to action.  I sent out an email to anyone on our email list from Australia and within one month, had a full speaking tour planned for February 2011.  I landed in Melbourne, spent a few days with my son and then was off travelling, speaking to Christians who love Israel.
That was my first trip down under.  There were leaders from other Christian Zionist organizations based in Australia, such as Bridges for Peace, Christians for Israel and Christian Friends of Israel, who opened their doors and their audiences to me.  There were activists and true lovers of Israel who recognized that the settlement movement was the heart of the matter and something their audiences need to learn more about.  Gradually, we grew our own list of friends and supporters from Australia, led first and foremost by Joy Heylen who later agreed to become our volunteer Australian representative.
My visit to Australia has become a model for what we can and should do in other countries.  Even in the US, where we first started, we have not begun to scratch the surface and reach the people who can and should be hearing our messages.   But in order to accomplish that, we need your help.  We need you to become involved, to act as our liaison in your own community, to introduce us to your pastor, to host meetings in your home or to join and recruit others to join our Israel tours.  Thank
you and may G-d bless you.
Sincerely,
Sondra Oster Baras
Director, Israel Office
P.S. , We need you!  Please contact me by email (sondra@cfoic.com) or phone if you want to get involved.  I can assure you we will be able to use your help.
P.P.S.  Enclosed with this letter is a card that I want you to return with a special picture from you . We want to hang that card at the Heart of Benjamin during their annual Passover camp next month.  The Special Needs children who have been so blessed by your generous contributions can see the faces of those who have poured out so much love towards them.